---
Apartment Building
Tomorrow Land
Country Club & Resort
---
---
---
KHANPUR DAM SITS IS CLOSE TO THE KHAN PUR DAM, SO CLOSE THAT IN ORDER TO PREPARE FOR POTENTIAL FLOODS THE LIVING SPACES ARE LIFTED OFF THE GROUND, STACKING ABOVE CONCRETE GARAGES.
A SMALL DAM BUT ALL THE WATER SPORTS AND EN-JOYMENT IS ONE THREE SIDES OF THE DAM CALLED KHANPUR LAKE.
WELL, WHILE GOING ALMOST 35 KM TOWARDS NORTH EAST FROM ISLAMABAD THE CAPITAL OF PAKISTAN, YOU COME TO THE KHANPUR CITY WHICH IS IN DIS-TRICT HARIPUR.
KHANPUR IS A VERY NICE PLACE TO VISIT ALONG WITH YOUR FAMILY. IT COMPRISES OF THE FOLLOWING FEA-TURES.
• THE LAKE OF KHANPUR
• THE POWERBOATS RIDING
• THE WATER SCOOTER RIDING
• THE MOSQUE ABOUT 200 YEARS OLD
• PARASAILING
• PARAGLIDING
THERE IS AN ISLAND IN THE CENTER OF THE LAKE WHERE YOU CAN CHILL AND ENJOY. ESPECIALLY KIDS DO ENJOY A LOT.
AND THE ROCKS SURROUNDED THE DAM WATER GIVES A VERY BEAUTIFUL VIEW. EVEN YOU CAN CLIMB THE ROCKS AND HAVE FUN. THE FRESH FISH IS ALSO AVAILABLE IN THE RESTAURANTS ATTACHED TO THE DAM. THIS IS ALL ONE DAY ACTIVITY BUT YOU HAVE TO BE THERE NOT LATE THAN 10 AM IN ANY SUNNY DAY DURING WINTER SEASON.
---
Storey – Ground To 6th floor
Basement – 01
Total Building Covered Area – 146,232sft
Basement Covered Area – 21,023 sft
Ground Floor Covered Area – 17,747 sft
1 st Floor Covered Area – 17,747 sft
2nd Floor Covered Area – 17,747 sft
3rd Floor Covered Area – 17,747 sft
4th Floor Covered Area – 17,747 sft
5th Floor Covered Area – 17,747 sft
6th Floor Covered Area – 17,747 sft
Roof Top Covered Area – 980 sft
Total Suites 234
Suites per Floor 39
Categories
Junior Suite – (33 per Floor)
Panoramic Suite – (05 per Floor)
Executive Suite – (01 per Floor)
Amenities
Roof Top Pool
Roof Top Party Area
Lift Lobby
Reception Area
Valet Parking
Guest Waiting Area
Prayer Area
Kids Play Area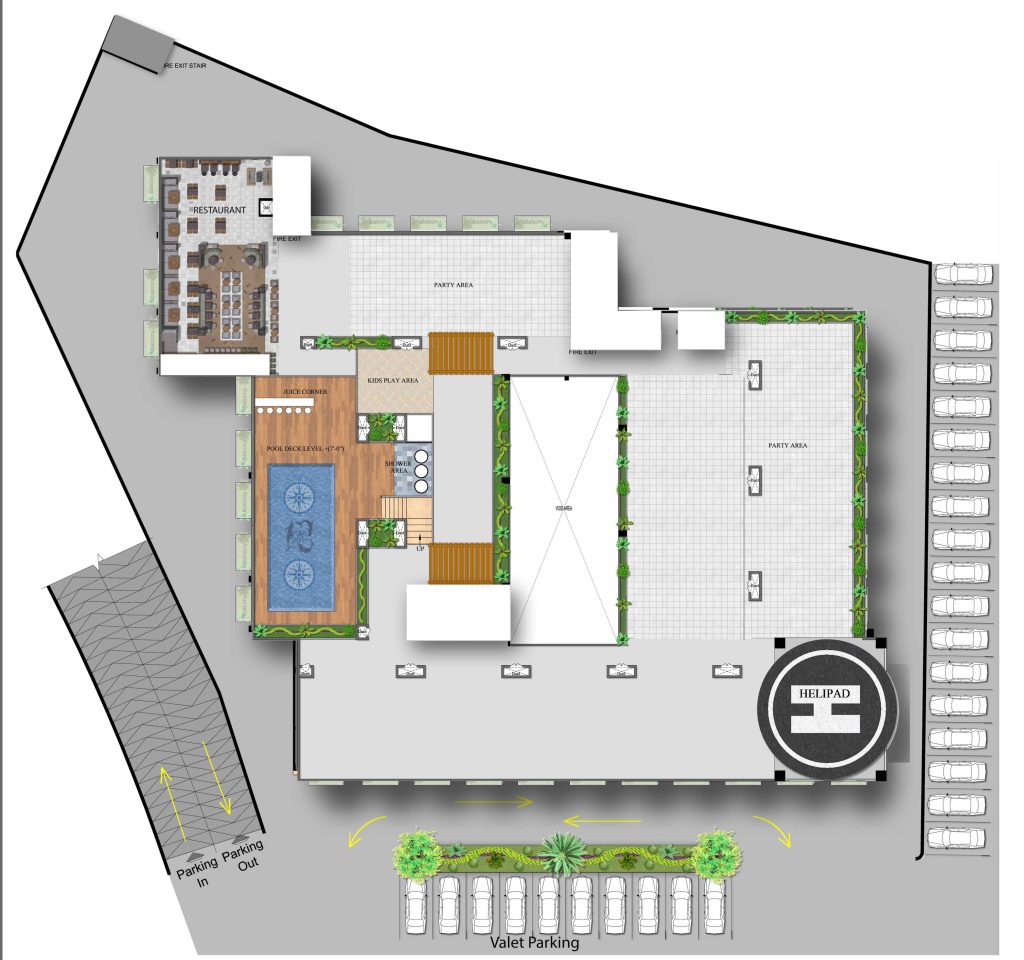 ---
Experience the Luxury
Amenities
that will inspire you
---